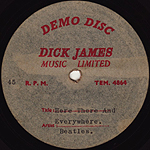 Dick James Demo Disc

According to "Collecting The original U.K. Pressings, 1962-70" by Mitch Scharoff, Before each Beatles record made its way into a shop so it could purchased, there were a few steps it went through to become the actual released product. In this chapter we'll examine 1) Acetates, 2) Test Pressings, 3) Promos and 4) Factory Samples.
An acetate is a recorded disk made of a thin metallic base, coated with a layer of vinyl. Their sound quality deteriorates after a number of plays, and they are a little heavier than common records. It can contain a song in any of various stages of completion - whether an alternate mix, a different take, an unfinished version of a song, or the final, released version.