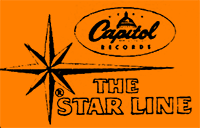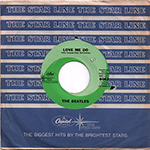 Capitol launched its Star Line singles series in January 1962 as a vehicle to reissue old hit singles. The records were packaged in blue and white sleeves that proudly proclaimed "from the Tower of Stars ... comes the STAR LINE single series ... special selections of hit recordings by the brightest stars!" The initial releases showcased the variety and depth of Capitol's master recordings.
The early Star Line singles covered jazz, folk, pop and country.
Later releases in the Star Line series included R&B, rock-a-billy and rock.
It was inevitable that Capitol would issue records by the Beatles on its Star Line series, and that the company did on 11th. October, 1965, with the simultaneous release of six singles. None of these songs had previously been issued on Capitol singles.
The first four Beatles Star Line discs were the same as the four Beatles 45s issued by Vee-Jay during the first four months of 1964. The remaining two singles were unique Capitol creations. The remaining two singles were unique Capitol creations. Capitol 6065 featured Roll Over Beethoven, which was released on Capitol of Canada 72133 and made the U.S. charts in early 1964 as an import single.
The final single in the series, Capitol 6066, paired Kansas City, pulled from Beatles VI, with Boys, which had previously been released in America back in January 1964 on Vee-Jay's Introducing The Beatles and in March 1965 on Capitol's The Early Beatles.
Capitol documents indicate that the Beatles Star Line singles were deleted from the catalog on 31th. December, 1965.