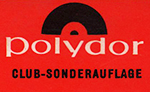 German first pressing of 'Meet The Beat,' the 1965 album by Tony Sheridan with The Beatles and The Beat Brothers. This 10 inch album was issued in only in Germany by Polydor and record club Club Sonderauflage in a limited edition, and features three of the Beatles earliest recordings, backing British singer Tony Sheridan.
"Meet The Beat" was manufactured in February 1965 and about two thousand copies issued to Club Members until it was withdrawn from sale in 1967.
This is a Special-Editon in the 10-Inch-Format for the Bertelsmann-Record-Club Organisation. Bertelsmann, now BMG-Media, started as a Book-distributor in Germany and that company founded in 1958 it´s own record-company and label.
BMG, in its early days Bertelsmann-Record Club was the biggest Book-and Record-Club Company in Germany.