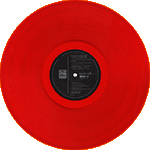 Issued to commemorate the 20th anniversary of The Beatles' Japanese concerts in 1966, the first rock concerts at Budokan,
Translucent red vinyl, cutting done in Japan from the copy of the master tape strictly kept at EMI in England (maybe).
The pressing and catalog number are identical to 1982-release version.
Released the 10 Album (11LP) box set, limited to 1,000 boxes.