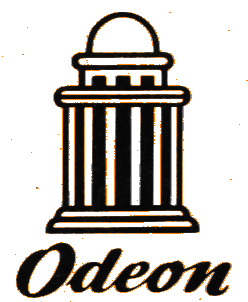 Odeon Records was a record label founded in 1903 by Max Straus and Heinrich Zuntz of the International Talking Machine Company in Berlin, Germany. The label's name and logo come from the Odéon-Théâtre de l'Europe in Paris.
International Talking Machine Company issued the Odeon label first in Germany in 1903 and applied for a U.S. trademark the same year. While other companies were making single-side discs, Odeon made them double-sided.
Between 1910 and 1911 Odeon was acquired by Carl Lindström. On January 30, 1904, Odeon became a part of the Carl Lindström Company, which also owned Beka Records, Parlophone, Fonotipia, Lyrophon, Homophon and other labels. Lindström was acquired by the English Columbia Graphophone Company in 1926. In 1931 Columbia merged with Electrola, HMV and other labels to form EMI.

After World War II, the Odeon label continued as a subsidiary of EMI in many non-English-speaking markets, such as West Germany, France, Spain, Scandinavia, Japan and Latin America. The dome logo was still used in most of those places, although they also had their own label designs.