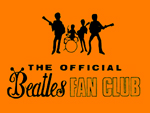 Every Christmas from 1963 through 1969, The Official Beatles Fan Club sent free 7 inch Christmas records to their fan club members, which contained skits, messages and brief songs which were otherwise unavailable. The disks were flexi's made by the Lyntone company, and each of them came in special picture sleeve.
These special records were never available for sale in stores.
At the end of 1963, the Fan Club was unprepared for the tons of extra subscriptions it received, so in addition to the multiple thousands of Christmas disks it mailed out in December, they also made a complete extra run of the flexi-disks without the sleeves (to save time), mailing them out early February 1964 with a letter of apology and an explanation from the Club. The total of 1963 Christmas disks made, both with and without sleeves, was just over 30,000 copies.