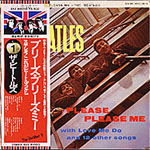 This style Obi came into use in June 1976 to promote the EAS series of Beatles reissues.
It is a wide Obi that has the flag of the country of the LP's origin at the top. The LP's series number is located on the Apple logo and at an angle at the bottom. Has a red background.
During the period this Obi was sold, there were no major changes, such as a change in company name or the printing of a replenishment order slip. However, since it was sold for about 13 years from its release in 1976, there was a change in the price display on the Obi with the introduction of the consumption tax in 1989.